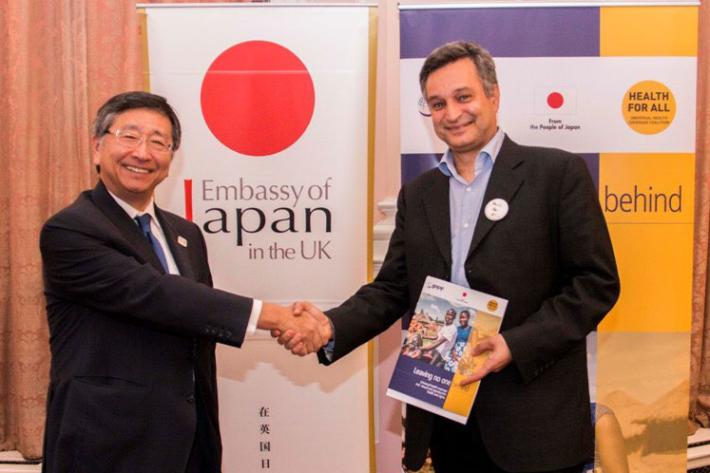 On the evening of Thursday 31 January 2019, the Embassy of Japan and International Planned Parenthood Federation (IPPF) jointly organized an event to launch an IPPF publication entitled Leaving no one behind: universal health coverage and sexual and reproductive health and rights, at the Embassy of Japan in London.
This event was an opportunity to showcase the successful partnership between Japan and IPPF, and to highlight the importance of universal access to sexual and reproductive health and rights which is vital to achieving Universal Health Coverage (UHC), women's empowerment and human security. It was also an occasion to celebrate the 50th anniversary of the Japan-IPPF partnership. 
Guests in attendance included British parliamentarians, representatives from numerous governments, and development and global health practitioners. 
The keynote speeches were given by the Ambassador of Japan, H.E. Mr Koji Tsuruoka and IPPF Director General, Dr Alvaro Bermejo, and were followed by a networking reception.
During his opening remarks, Ambassador Tsuruoka highlighted the importance of universal health coverage in ensuring that every individual gets the treatment that they deserve. He also praised IPPF for their continuous work "on the ground" to address the common challenge of health, and emphasised Japan's support for IPPF's activities around the world. 
Dr Bermejo said:
"By promoting universal access to sexual and reproductive health services that are stigma-free, effective, and affordable for everyone, IPPF makes a unique contribution to universal health coverage."
Dr Bermejo also acknowledged Japan's leadership in promotion of global UHC based on its own experiences and successful campaigns that have resulted in UHC being adopted as a Sustainable Development Goal (SDG) target.
The event provided valuable insights into Japan's leadership in promoting UHC and global health, and the importance of partners looking ahead to forging new opportunities and accelerating collective efforts to achieve SDGs.
2019 is set to be another important year in building momentum towards UHC, as Japan hosts the G20 Osaka Summit in June, in hope of realising and promoting a free and open, inclusive and sustainable "human-centred future society". Japan will also be hosting the 7th Tokyo International Conference of Africa's Development (TICAD 7) in Yokohama in August, and the Nutrition for Growth Summit in Tokyo in 2020.    
See more:
Full publication: Leaving no one behind 
Speech: Ambassador of Japan Koji Tsuruokas
Speech: IPPF Director General Alvaro Bermejo