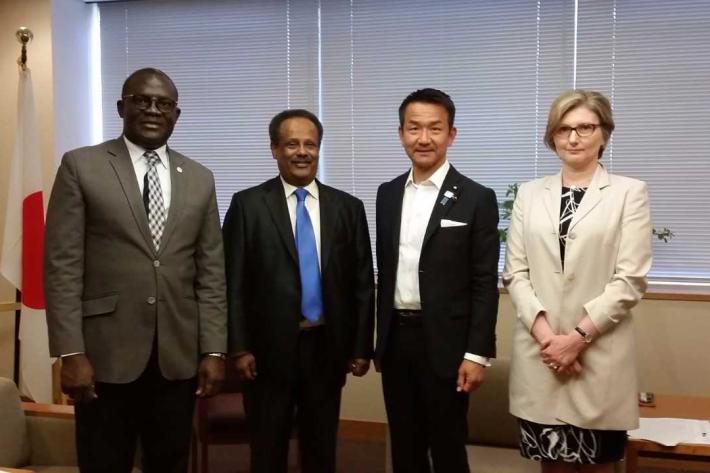 Tewodros Melesse, Director General of IPPF visited Japan on 5-7 June with two of IPPF's senior management team members.
During his visit, Mr Melesse attended the first policy dialogue between the Ministry of Foreign Affairs and IPPF and met with the Parliamentary Vice Foreign Minister H. E. Mr. Kiyoshi Odawara.
Mr Melesse was delighted to hear from Mr Odawara of Japan's reassurance in continuing its support to IPPF and on SRH issues.
Mr Odawara also said that Universal Health Coverage, which is Japan's priority, cannot be achieved without universal access to reproductive health. In response, IPPF's Director General recommitted IPPF to ensuring result-oriented activities, to enhance accountability further and to increase opportunities to work with the Japanese people and private companies.
Mr Melesse also met with Ms Akiko Nakajo, Director and Regional Head of APAC Partner Plex with Google Japan. This meeting was held immediately after Ms Nakajo's recent appointment as one of IPPF's first External Advisors to its Governing Council, which is IPPF's highest level decision-making body.
During their discussions, Mr Melesse welcomed and thanked Ms Nakajo for her acceptance of her appointment. Ms Nakajo mentioned that connectivity is an issue of human rights and communication is a key to connect and influence people. She also pointed to the importance of culture in governance. Mr Melesse suggested she visit some of IPPF's Member Associations, to see their activities in the field, to help with her preparations before she attends IPPF's next Governing Council, which will be held in November this year.