Established in 1949, Family Planning Association of India is a voluntary non-governmental organization, which pioneered the family planning movement in India. FPA India works on a wide range of SRHR issues encompassing family planning, maternal health, child survival, HIV/AIDS, safe abortion, reproductive tract cancer screening and prevention, gender empowerment and young people, and mitigation of gender-based violence (GBV). Key strategies include ensuring access to high quality SRH services and strengthening health systems; strengthening access to information and services for young people; comprehensive sexuality education; capacity building of health care providers and community volunteers on SRHR issues; engaging with communities and individuals to change gender disparity and promote SRHR; promoting livelihood opportunities for economic empowerment of the poor and vulnerable and advocacy for policy change at the national and state level.
FPA India reaches a population of more than 30 million annually, on an average. Presently, FPA India operates through 45 Branches and Projects across 18 States, supported by more than 3000 community based volunteers and more than 1000 staff. Services are provided through 39 Reproductive Health and Family Planning Centres (RHFPCs), 19 Urban Family Welfare Centres (UFWC) that are government funded, 19 satellite clinics, 229 associated clinics, 56 outreach service units with support from 510 CBDs, 119 private physicians and 33 other agencies.
During the year 2020, SRH services were provided to 4.2 million clients, of which nearly 40% were young people below the age of 24 years. 
Vision: All people empowered to enjoy their sexual and reproductive health choices and rights in an India free from stigma and discrimination
Mission: A voluntary commitment to SRHR to ADVOCATE for and ENABLE gender equality and empowerment for all including poor and vulnerable people, ENSURE information, education and services, POWERED by knowledge, innovation and technology towards sustainable development.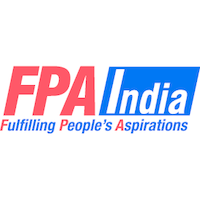 Address
Family Planning Association of India (FPA India), Nariman Point, Mumbai 400 021, India