Fiona, 28, joined the Jamaica Family Planning Association (FAMPLAN) Lenworth Jacobs Clinic in 2017 as a volunteer through a one-year internship with the Jamaica Social Investment Fund. 
"I was placed to be a youth officer, which I never had any knowledge of. Upon getting the role I knew there would be challenges. I was not happy. I wanted a place in the food and beverage industry. I thought to myself, 'what am I doing here? This has nothing to do with my qualifications'. It was baby mother business at clinic, and I can't manage the drama," Fiona says. 
Embracing an unexpected opportunity  
Fiona's perception of FAMPLAN quickly changed when she was introduced to its Youth Advocacy Movement (YAM) and began recruiting members from her own community to join. 
"I quickly learnt new skills such as social media marketing, logistics skills and administrative skills. In fact, the only thing I can't do is administer the vaccines. They have provided me with a lot of training here. Right now, I have a Provider Initiative Training and Counselling certificate. I am an HIV tester and counsellor. I volunteer at health fairs and special functions. I will leave here better than I came." 
Working with vulnerable communities  
The Lenworth Jacobs Clinic is located in tough neighbourhood in Downtown, Kingston. Fiona says there is vital work to be done, and youth are the vanguards for change. 
"It's a volatile area so some clients you have to take a deep breath to deal with them as humans. I am no stranger to the ghetto. I grew up there. The young people will come, and they'll talk openly about sex. They'll mention multiple partners. You have to tell them choose two [barrier and hormonal contraception] to be safe, you encourage them to protect themselves," she says. 
Other challenges that young people face include sexual grooming, teenage pregnancy, and violation of their sexual rights. 
"Sometimes men may lurk after them. There is sexual grooming where men feel entitled to their bodies. A lot are just having sex. They don't know the consequences or the sickness and potential diseases that can come as a result of unprotected sex. Many don't know there are options - contraceptives. Some don't know the dangers of multiple sex partners. The challenges are their lifestyle, poverty level, environment, and sex is often transactional to deal with economic struggles," Fiona explains.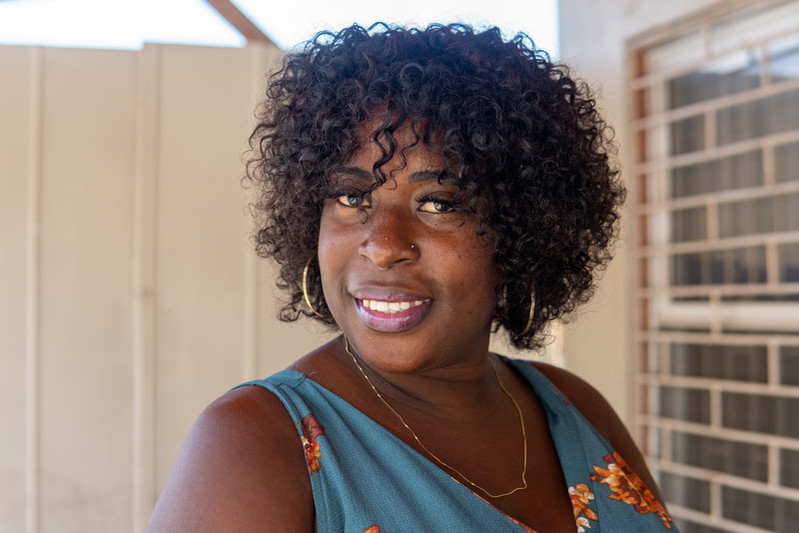 Providing a safe space to young communities  
Despite these challenges YAM has provided a safe space for many young people to discuss issues like sexual consent, sexual health and rights, sexuality and provide them with accurate information access to FAMPLAN's healthcare. 
But there remains a need for more youth volunteers, and adults, to support FAMPLAN's work.  
"We need more young people, and we definitely need an adult group. Teens can carry the message, but you're likely to hear parents say, 'I've been through it already' and not listen. They also need the education YAMs have access to, so they can deal with their children, grandchildren and educate them about sexual and reproductive health rights. For my first community intervention a lot of kids came out and had questions to ask. Questions that needed answers. I had to get my colleagues to come and answer," Fiona says. 
YAM's impact goes beyond sexual and reproductive health, as the group has supported many young people on issues of self-harm and depression. 
"There's a lot going through these teenagers' minds. Through YAM I have developed relationships and become their confidante, so they can call me for anything. The movement is impacting. It helped me with my life and now I can pass it down. YAM can go a far way with the right persons. Whatever we do we do it with fun and education – edutainment." 
Related Member Association
Jamaica Family Planning Association