In November 2017, Planned Parenthood Association of Zambia (PPAZ) received the news that they must cease all USAID funded programmes. The stop order was a result of the 'Global Gag Rule' (GGR), also referred to as the Mexico City Policy. The reinstatement of the policy has resulted in Planned Parenthood Association of Zambia losing 46% of its funding. You can learn more about the Global Gag Rule here.
---
"My name is Thomas, I'm 34 years old. At PPAZ I worked as a peer educator and counsellor, I used to work on the outreach programmes in the community to offer access to health services like voluntary counselling and testing, we also used to sensitize women on the importance of family planning. We also used to refer women we would find had different problems, to the facilities so they can access health services. We also used to help by giving information on things like HIV prevention and signs and symptoms to look out for.
At other times, since the places were very far, we would take the services from the facilities to where the people were, so PPAZ used to help us do that.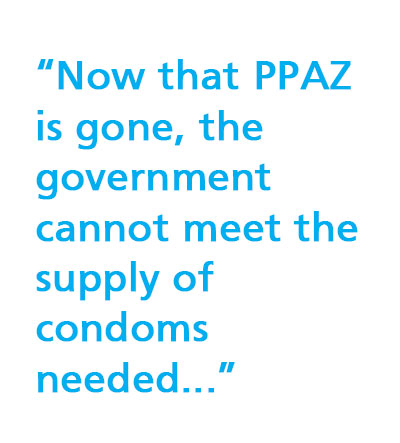 I was at the clinic when they came to tell us that PPAZ would no longer be involved in the project because the funding had been stopped. It was a challenge for us because the services that people had become accustomed to in the communities, HIV counselling and testing services levels reduced because we couldn't manage to go and take these services to them in the places where they live.
When we worked with PPAZ we used to put condoms in these places for them, in the bars and taverns, and even pool tables. Now that PPAZ is gone, the government cannot meet the supply of condoms needed in these places, even the services can't be offered on the same scale.
Unable to meet needs in rural areas
Like you can see here, I look after my grandmother and other family members and that money [peer educators' allowance] used to go a long way in helping us look after our children and buy food, and other things. At the moment it is very difficult. Nyangwena is a very big place, it also includes 14 villages, so there are many people in this area. With the money that we were given through PPAZ, my friend and I would manage to get tyres for a bicycle and go to these places, we'd cycle distances as far as 14Km away. It was very helpful; the community really appreciated the services we were offering because we used to take them to the people.
We would be very happy if PPAZ were to start them again because we would really help our communities a great deal with these services. Even school children would go and access them, at the youth-friendly corner twice a week. Information is really needed amongst these school children."
Related Member Association
Planned Parenthood Association of Zambia