Áine's story - Abortion and the referendum in Ireland
Áine Kavanagh
Advocacy and Communications Assistant, IFPA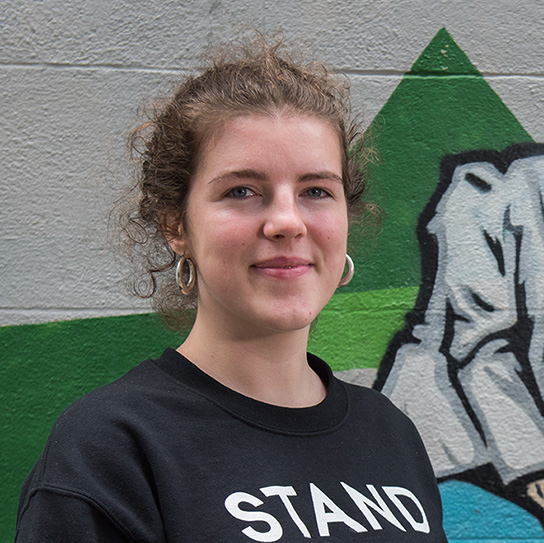 I'm 23 years old and I grew up in a particularly rural and conservative part of Ireland.
Our country has changed hugely since I was born in 1995. Homosexuality was decriminalized in 1993 just two years before I was born. And then just three years ago gay marriage was legalized. It's mind blowing for me to think that's all happened in my lifetime, so I can't imagine how mind blowing it is to my parent's generation.
The only time I ever heard the word abortion mentioned in school was when we were doing a play in the Irish language. There was a scene where the characters were discussing abortion. I remember asking the teacher what the word translated as. She said, 'It means murder'. I know now if you break the translation down it would be similar to the word for a fetus. That doesn't literally translate as murder. But that was how it was explained it to us.
Young people are often seen as politically apathetic, but it's important my generation are involved in the reproductive rights movement.
I studied reproductive biology at university and did my dissertation project in an abortion clinic in 2017. I was interviewing doctors and nurses working in the clinic in Edinburgh about their relationship with their patients. I saw how the patients were talked about with such respect and compassion. It really brought home the stark contrast of how women in Ireland were treated. That spurred me into action. I decided to go home and help with the Yes campaign. Legislation is how social change is made, how rights are created. Young people are often seen as politically apathetic, but it's important my generation are involved in the reproductive rights movement.
It was exciting to be part of a big campaign. My colleagues have been in this fight for decades, but they'd never had a national referendum like this before. For the first time ever, they said it felt like everything was to play for. The pressure was immense because it felt like every woman in Ireland, both past and present generations, were counting on us to get this right. My role involved researching policy briefs or answering questions for journalists such as abortion rates in Switzerland and Portugal, after their referendums. I was doing a lot of fact checking and looking at abstract numbers, but all the while I was also answering the phone to women ringing the IFPA in floods of tears saying, 'I'm pregnant I don't know what to do.'
For decades, every single day, women experiencing an unintended or crisis pregnancy have been ringing the IFPA to access information and counselling. For me trying to calm the woman, telling her what we can do and hearing her relief, hoping I've made a bit of difference to her just made it all incredibly real. Then I'd go back to researching some more statistics to convince people that this is important.
My desk is right by the window on the street. I remember a week before the referendum a No campaign truck parked very pointedly across the road with a big banner on it. It felt quite sinister and intimidating, like psychologically they were just watching us. Then a few days later a Yes truck parked in the same spot. And I felt such joy, it felt symbolic.
Many people found the No campaign posters distressing with incredibly negative and violent language, for example 'a license to kill. I think that negativity backfired for the No campaign. I think the Yes campaign was seen as more sensible. Voters asked themselves which side do you trust in this incredibly important issue? They chose not to trust the people behind the violent posters. I think the recent scandals in the Catholic church played a role too because the No campaign was using messaging like, 'Oh yes the eighth amendment has led to an Ireland where we really treasure our children'. This felt tone deaf in a country where there's been so many child abuse scandals. I also think that drove people away from the No campaign because that's clearly not the Ireland we've all been living in. They displayed a kind of moral snobbery which felt like preaching. That might have worked on the Ireland of another lifetime but not now. Not my generation.
On the other end of the spectrum the vote Yes posters appeared in rural communities for the first time, which I think was very powerful for people who might have felt quite isolated or just hadn't talked to anyone in their in their community about abortion before. The posters on both sides created conversations. In the final weeks leading up to the vote the most important conversations were happening at the school gates or at kitchen tables over cups of tea. Women in their own communities were discussing the vote.
I wouldn't have been surprised had there been a no vote. Since the foundation of the Irish state there's just been systematic abuses of women. And a misunderstanding of how pregnancy happens, how sex happens.
It still feels like a dream that we won. It wasn't until they called out the two tally boxes from my home village and that I heard Yes passed there by 57 percent that I realized it was really happening. In Roscommon, a constituency that voted no to gay marriage back in 2015, there was one tally box where it was something like a hundred and seventy-eight yes votes and four no votes. That's when I knew it wasn't just Dublin and the cities. The whole country was behind us. That makes me cry. And it makes me very proud to be from rural Ireland.
I went to Dublin castle to celebrate. At one point the crowd spontaneously started chanting Savita's name. That even in that moment of celebration we remembered her death was very emotional. I recall watching some kids playing, and their mothers were standing hands on the hip just watching them, and they're all wearing repeal jumpers. One of them was visibly pregnant and there were also two men there with their child. For me that was such a beautiful symbolic image of how far Ireland has come.
For me abortion is about motherhood at the end of the day. It's about allowing us the right to be the best mothers we can be, if and only when we decide it's right for us to be.
To find out more about Irish Family Planning Association please visit www.ifpa.ie.