Ivana's story - Abortion and the referendum in Ireland
Ivana Bacik
Labour Party Senator, Leinster House, Dublin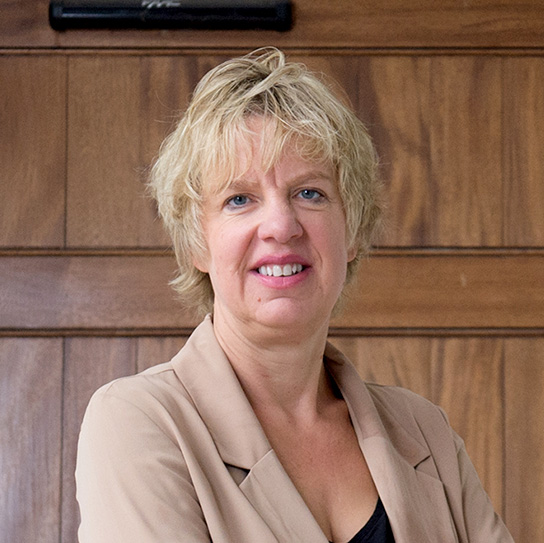 My personal reproductive rights journey began when I was President of the Student Union at Trinity College, Dublin in 1989 and I was threatened with prison.
A pro-life group called The Society for the Protection of the Unborn Child (SPUC) started to take legal cases against student's unions and women's counselling centres to stop us from providing phone numbers and addresses of abortion clinics in England. Irish women had been travelling in large numbers to England over many years since abortion was legalized in England in 1967, so student unions helped them by providing information.
In 1983 the people voted for the eighth amendment, a text inserted into the Irish constitution to guarantee the unborn an equal right to life to that of the mother. There was nothing in the eighth amendment about information, but it was used by SPUC. They won a legal case that if you give information to a woman in crisis pregnancy that might enable her to access abortion, therefore that's endangering the life of the unborn and therefore it's in breach of the Constitution. It was a big legal jump of interpretation to suggest that the eighth amendment should stop women from accessing information but that's what happened. The Students Union was taken to court and we were threatened with prison just for giving out information to women in crisis pregnancy.
My personal reproductive rights journey began when I was President of the Student Union at Trinity College, Dublin in 1989 and I was threatened with prison.
Our case generated huge outcry. We didn't get sent to jail because our legal counsel Mary Robinson (who went on to be first female President of Ireland) made a series of very important arguments based on European law and our case was sent to the European Court of Justice in Luxembourg. After that there was a series of referenda in 1992, and one of those guaranteed freedom of information. Since 1992 women can be given information on where to access abortion but it's subject to certain restrictions. For example, doctors and counsellors cannot refer a woman to a clinic in England. They can only give the information and she must make the appointment herself.
This created more obstacles for women. It was particularly difficult for women with diagnoses of fatal fetal abnormality, where they're in a hospital in Ireland and yet their doctors can't refer them to a doctor in England to terminate their pregnancy. They can only just give them the phone number.
There was a backdrop of a series of tragic cases under the eighth amendment, most notably the X case in 1992 where a 14-year old girl who'd been a victim of rape wanted to travel to England with her parents to terminate the pregnancy. Her parents sought legal advice on whether they could use DNA from the fetus to bring criminal proceedings against the rapist. But when the state became aware of this the Attorney General took a case in the High Court to stop the girl and her parents from travelling for nine months so that she couldn't terminate. Her parents appealed to the Supreme Court which overturned the decision and said the girl was entitled to an abortion because her right to life was directly threatened by the pregnancy, because she was suicidal. So, the X case established women had a right to abortion but only in a very limited circumstance where a woman's life is at risk.
It's extraordinary to think that we've had 35 years of these incredibly difficult traumatic and harrowing cases. There were many other deeply distressing cases including one where a young woman was kept alive artificially even after dying because the doctors were afraid to turn off life support because she was in early stages of pregnancy when she died. Her family had to take court action to get permission to turn off life support.
It has been a slow path back and forth, legal battle and so many judicial decisions.
But after the referendum was passed in May 2018 by such a resounding majority, it's clear these tragic cases are consigned to history. We have a really resounding public mandate to change the law. By the end of 2018 we want to see progressive legislation in place so that women can start accessing abortion in Ireland from January 2019.
Over the years we were battling we had a lot of support from the International Planned Parenthood Federation (IPPF) and from international bodies. We also had cases before the European Court of Human Rights and the UN Human Rights Committee. They were hugely influential in helping us to change the law. I hope now to support those who are fighting for reproductive rights in other jurisdictions. We want to keep putting on international pressure as much as we can.
In Ireland I think the final shift really came when we saw the Irish professional bodies for obstetricians and gynaecologists taking positions in support of a repeal of the eighth amendment. Those medical voices were crucial. Even people with a conservative, very strong Catholic faith who would have voted against abortion previously were persuaded by the voices of women who had abortions and by the voices of doctors. It was an extraordinary outcome to see this shift in public opinion happening in Ireland, a country that has been so long associated with a very conservative sort of Catholicism. I think it made waves around the world.
The key message is to keep on fighting. Women's reproductive rights must prevail. That's the only way we will achieve equality for women.