Maeve's story - Abortion and the referendum in Ireland
Maeve Taylor
Director of Advocacy and Communications, IFPA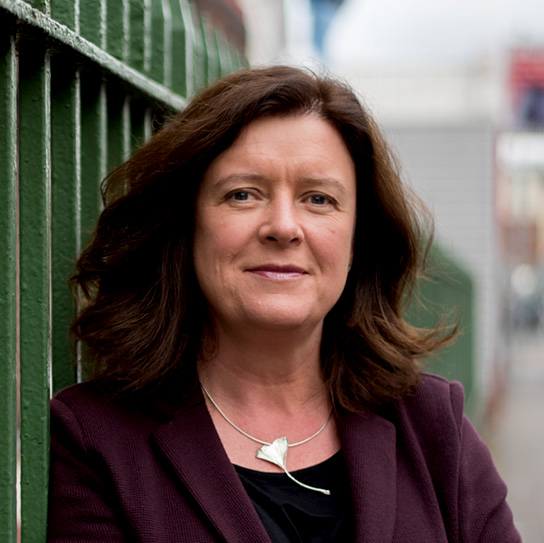 We've brought about profound change in Ireland from a position where abortion occupied a toxic political space, where it was a divisive issue for politicians and in public discourse. We had to create a cultural shift so that rather than thinking about abortion in some abstract or ideological way we framed a conversation to help parliamentarians, civil society and the wider public understand we're talking about a fundamental issue of women's health.
Dressing up abortion as a political issue or ideological issue can make it feel scary and keep it on the margins. But a conversation about something that should be part of a mainstream health service, having international experts talking in very measured expert ways allows people to think differently. We never took a view that we'll talk about this specific category of women because they are the most sympathetic. We resisted any of that. It was a 'leave no one behind' strategy of advocating for all women whatever their circumstance.
This is about a woman, about a woman's decision. It's about her health, autonomy, dignity - her fundamental rights.
All our advocacy and communications has been about this message. This is about a woman, about a woman's decision. It's about her health, autonomy, dignity - her fundamental rights.
You need to ensure people understand those terms. You do that by providing the story, the narrative and the language that allows those who still hold to conservative and/or Catholic views to understand that their own moral values must also mean caring for women who need abortions.
At the time the eighth amendment was inserted in the Constitution the Catholic Church still had power, Ireland was still a deeply Catholic state. Every church was packed on a Sunday and every priest was advocating for the eighth amendment. It was the first social justice constitutional referendum in Ireland. We didn't have the pattern of divorce referendums or other referendums. So, there was no experience of mobilization around the Constitution.
The eighth amendment was a masterstroke by its architects. It said that a woman had an equal right to life with an unborn, presumes the unborn had the right to life and made the concession that the woman's right to life is equal to that and that the State must by its laws protect and vindicate that right. The masterstroke was that they framed a constitutional ban on abortion, a very anti-woman provision, a very misogynistic provision that reflected Catholic teaching and ideology, but they framed it as being about rights. It was a clever way of lodging an abortion ban in the Constitution. The eighth amendment shows that the Church and the secular anti-choice ideologues knew that that the power of the Church was waning and the influence of the women's movement and the EU was rising. The 8th was a recognition that Catholic teaching alone wasn't going to keep reproductive rights at bay in Ireland, the Church needed the secular power—the normative power of law—to do that.
But the seeds of change were always there. If you look at the result the eighth amendment was voted in by two thirds, but that also meant that a third of the population voted against it, even then. What prevented change happening after 1983 was political inertia, not religion or anti-choice views. Government parties were entrenched in an old view of Ireland as deeply conservative. They never saw an advantage in taking on a woman's issue as being something that was politically advantageous.
The referendum last year was the sixth referendum on abortion, but it was the only one that was about expanding access. All the others were about restricting access. That was all we were ever offered. But the State persistently presented a myth externally that in Ireland the people are consulted all the time about abortion, we've had a referendum after referendum, we've had political processes, we've had consultations, we've had parliamentary committees etc. The State perpetuated a myth that the Irish had a special sensitivity about abortion. That was harmful because what it did was silenced pressure from other countries. It was a very effective strategy.
To combat the government inertia, we needed to engage in human rights advocacy. We needed political advocacy. So, we took the decision to identify a group of clients who could be supported to take a case to the European Court of Human Rights. Ireland takes the European Court of Human Rights very seriously and it has always implemented the judgements. And the layer of inertia began to crack and the government was forced to do something.
But even then, the government's response was 'well yes we take this very seriously we take our obligations very seriously we'll set up an expert group. We acknowledge that unfortunately, we have a Constitution. There's nothing we can do.'
The government absolutely did not expect the expert group to say we must have legislation in this country. But that's what the group said. After that reform was on both the political track and legal track. But nothing was going to change without public support.
We also went to the Universal Periodic Review. That's a process within the UN Human Rights Council where states stand up and get two minutes to criticise other states. We spoke to about 60 different states, we spoke to their ambassadors here to ask them to criticize Ireland's abortion laws. Their attitude was, almost every single time: Really? Do you seriously think Ireland is going to change its abortion laws?'
They just looked bemused and perplexed, but then we'd say well here's the situation. It's a human rights issue. Ireland goes out and speaks at every single meeting internationally and inter-governmentally talking about being a champion of human rights, a champion of civil society, a champion of gender equality. So yes, we expect you to say there is a great big gaping hole. We expect you to challenge and criticize that.
We worked on every different strand that might help. We fired off reports to the Council of Europe, the monitoring body for the European Court of Human Rights. At the same time, we're going to the UN Human Rights Committee, The Committee on the Elimination of Discrimination against Women (CEDAW) and all these other U.N. committees to bring forward the public health evidence of the harms to women.
Our counsellors have had woman after woman coming to them in very difficult situations, rejected by the health system, abandoned by your own State, feeling stateless, feeling deprived of citizenship. For us it's always been important that that experience doesn't just stay in the consulting room and in that woman's heart and life, but that experience will go out and be heard by human rights expert bodies on the European Court of Human Rights or of the All-Party Group and the other politicians. It's always been important to us that those real-life experiences are brought into political discourse.
Change reached a crescendo in 2014 when the UN Human Rights Committee urged Ireland to bring its laws into line with international conventions. That got a lot of coverage. After that politicians and society knew we couldn't ignore this. They realized this isn't some abstract feminist academic argument. This is our healthcare system abandoning these women, rejecting these women.
The week of the referendum itself I have never been so tense. The day of the vote I've never felt such pressure. I just thought: 'We can't lose this. We can't.'
When I heard the result, I thought of the 170,000 woman who travelled to the UK for abortions. The real figure could be far higher, that 170,000 are just the ones we know of. Each of those thousands of women now know that the one million, four hundred twenty-nine thousand, nine hundred and eighty- one Irish people who voted Yes were with her. I didn't know that figure would be so important to me, but it is. It's important because a number less than that wouldn't have been enough for the women who suffered so much and went through so much. It was just momentous.
To find out more about Irish Family Planning Association please visit www.ifpa.ie.