Catriona's story - Abortion and the referendum in Ireland
Dr Catriona Henchion
Medical Director, IFPA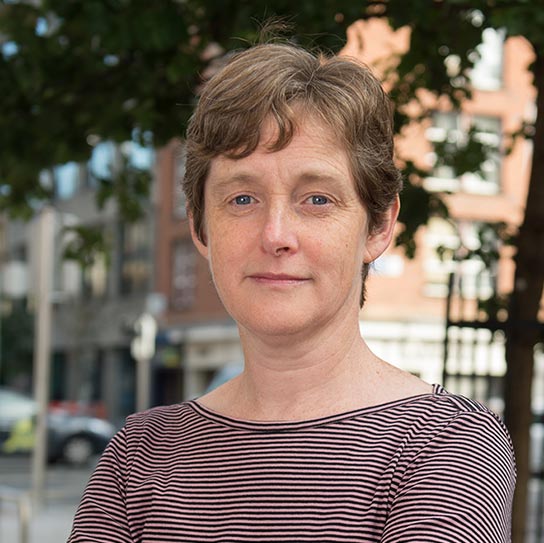 As a doctor I heard so many stories of how abortion law in Ireland caused problems for women. At the IFPA we gathered those stories into different groups, and when we came to be asked for evidence, we realized we had gathered so much through our normal clinical work.
We had stories from women who had problems in earlier pregnancies and were afraid to go through another or had been told it wouldn't be safe to be pregnant again. They wanted to have an abortion, they didn't know where to turn.
For us it was difficult trying to look after those women. From a medical perspective we had to ensure they had enough medical information about their own history to be treated safely and to assess the best place for them to go where they would be looked after. And all of this without our being allowed to make an appointment on their behalf or calling the doctor in England that would be treating them. Because that was forbidden under the law.
As a medical professional there was this constant feeling of just having to wash your hands of it and leave your patient on their own.
Our counsellors were constantly dealing with women asking, 'What am I going to do. Can you not help me? I don't have the money to go and I can't go through with this pregnancy.'
And we were completely powerless to help them. There was nothing we could do.
Or we would have cases of minors attending with parents. And the parents are saying but you can't expect a child this age to go through a pregnancy. And again, all we could say is 'there is nothing I can do'.
As a medical professional there was this constant feeling of just having to wash your hands of it and leave your patient on their own. Doctors like to solve people's problems and to not able to solve a problem because the law prevents you from doing so was very difficult.
I gave evidence to the Citizen's assembly and the European court submission. I highlighted many things but a main one was the Abortion Information Act which came in after a referendum allowing abortion information to be provided in certain circumstances. But it was restricted the way it could be provided. It laid down specifically that nobody could be seen to advocate for abortion and that no doctor could make a referral to another clinic for a woman to have an abortion or telephone to make an appointment for them. It was so restrictive but at the time this was seen as actually a breakthrough, because it did at least clarify that women could travel overseas without breaking the law.
But for me as a doctor it meant I might have somebody who was telling me they had cardiac disease, or they were on anticoagulants because of blood clots or various other medical conditions. I had no way of knowing that the doctor at the other end was going to receive this information correctly because it was up to the patient to explain it. But in their panic and their stress they might forget, or they may be afraid to pass it on in case they were turned away. That was so out of keeping with every other medial process. If you were sending anybody for any other medical procedure and that kind of important patient information failed to get through, you'd potentially be sued as negligent as a doctor.
The second thing was the unfairness. If someone had resources – financial, childcare support etc - then they'd get the money together to travel and get their abortion. But if they didn't have those things, they had no options.
The third piece of compelling evidence I gave was the increasing number of women accessing abortion pills online. I saw many women who had unwittingly bought fake pills or had complications but were too scared to come in for follow up care or tell people what they had done.
I have never met anyone who has taken an abortion decision lightly. Some women might know immediately that's what they are going to do, and others might need to take longer and talk about it. We trust adults to make all their other decisions. They're an adult. They're entitled to make that choice. So, you assume that they have reasonable reasons and that's it. It didn't make sense that we didn't trust women to make their own choices.
To find out more about Irish Family Planning Association please visit www.ifpa.ie.