Cyclone Winston, which devastated Fiji, was the strongest to ever hit the South Pacific. IPPF's humanitarian response there was carried out with our Member Association, the Reproductive & Family Health Association of Fiji, and is part of our SPRINT Initiative, funded by the Australian Government.
---
My name is Verenaisi Katerina. I have five children and we live in a remote village in the Ba Highlands. At the time the cyclone hit we were all living in a timber house and I was pregnant. I've lived in a bure (traditional timber house with a thatched grass roof) all my life, I'm so used to living in a bure, I'm not used to living in a tin-roofed house. We tried to be prepared when the cyclone came. But we had to all rush to the evacuation centre when the roof blew off our house. My whole family was scared, our house was flooded and our crops were all damaged. My daughter was covering her eyes and ears and crying for help.
While I started preparing to move to the local school to take shelter, my husband went to get us some food. I was really, really afraid. I was so worried about my kids. I told my husband not to be late and to help me out with the kids going down to the school. In the end, I managed to get my children to the school on my own, and my husband joined us later.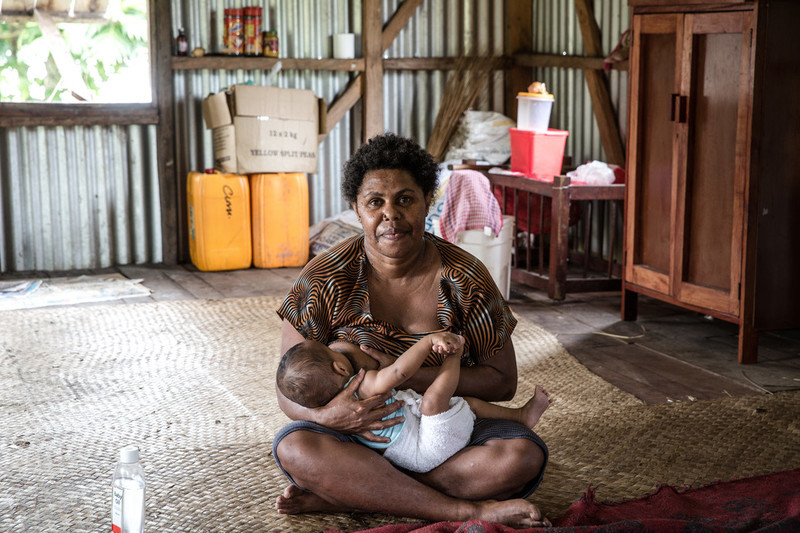 While my family took shelter, lots of other homes in Navala were destroyed. We were lucky: most of their possessions were blown away, but some managed to survive, and our home was damaged, but remained standing.
When we came back the next day, my husband tried to start repairing the kitchen so that we could move back. We had a small stove that we were using, and we made a small kitchen so at least we could cook. My husband could only get us what was left over from the farm and that's basically what we were living on. We had to eat a lot of flour products, a lot of rice, because our farm was badly damaged.
I received a dignity kit from IPPF and found it extremely helpful, particularly in clothing my children and the baby. Some of it was worn on the very same day we received it.
I later took part in a family planning session conducted by IPPF. I learned a lot from the workshop on that day. I told myself, this is it. I'm only going to have five kids. Having to go through that experience of Cyclone Winston, if I had more children, then it might have been more difficult, too late, for me to run up to that school for shelter.
I have had a talk with my husband and we have decided that this one is my last. My fifth is my last.
Stories
Read more stories about our work in Fiji after the Cyclone Winston
Related Member Association
Reproductive & Family Health Association of Fiji