Cyclone Winston, which devastated Fiji, was the strongest to ever hit the South Pacific. IPPF's humanitarian response there was carried out with our Member Association, the Reproductive & Family Health Association of Fiji, and is part of our SPRINT Initiative, funded by the Australian Government.
---
Despite its flourishing international tourism industry, Fiji remains a deeply conservative and traditional society, bound by long-held rules on culture and conduct. In particular, any discussion about sex and sexuality is taboo: including talk of sex, condoms, pregnancy and sexually transmitted infections.
Given Fiji's relatively high rate of teen pregnancy (36 in 1000 in the 15-19 age group, according to UNFPA 2016 statistics), it is an issue of growing concern. It falls upon the village headman to provide guidance on how the issue is tackled: and when there is one who is progressive and not afraid to discuss taboo topics, it augers well for the sexual health of the entire community.
Sevuama Sevutia is one such leader. The deputy headman of Naiserelegai village is a proud advocate of condom-use, telling the young people of the village that it is vital to wear them to prevent pregnancy.
"My experiences, I share with the kids," says Sevuama.
"I tell the children, get to that stage of knowing what the sexual relationship is all about. Please look after yourself and if you have a problem, with the young boys or if someone is giving you the wrong advice, please tell people. It's my job to tell them, to call their mother, their father."
"Nowadays, as the education level rises, we have to open up. But in the village, in the olden days, when people would see condoms they would say, 'no no, don't talk about that'. But I am encouraging them to open up."
His children, too, are encouraged to be open. "I tell them, this is a condom," he says, brandishing an imaginary condom. "Safe sex. If you want to have sex, use a condom. Use the condom! And protect yourself from the other things."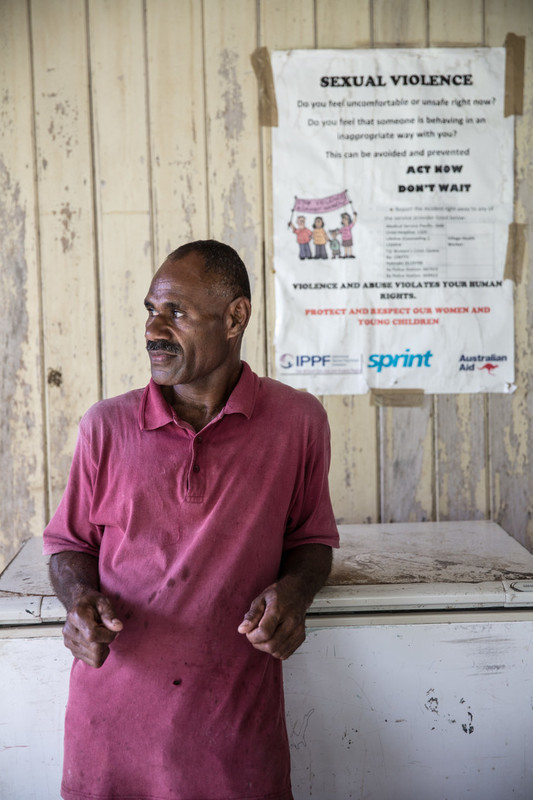 Sevuama, 53, a former marine engineer, spent decades in Suva before returning to his bayside home village of Naiserelegai. He was in the city at the time of the cyclone but managed to get back three or four days later when the roads had re-opened. He found his home damaged but intact and his five children safe, but much of the village destroyed and his wife still in shock. He received a small amount of money from the government to help fix his roof.
Earlier this year, he, along with other men in the village, participated in IPPF information sessions on male sexual health and fertility, which he described as very helpful in complementing and reinforcing his existing knowledge. "We had a lot of questions, like mostly for the man, something might have happened to them during a difficult time. All this information helps the communities."
Stories
Read more stories about our work in Fiji after the Cyclone Winston
Subject
Comprehensive Sex Education, Gender equality, Emergencies
Related Member Association
Reproductive & Family Health Association of Fiji