The intensifying climate crisis.
Slashed funding to life-saving sexual and reproductive healthcare.
A surge in youth-led activism, and grassroots movements pushing for much-needed reform. 
These are just some of the trends shaping sexual and reproductive health and rights in 2023.
As we enter a new year, emboldened by a new strategy, we've compiled a list that details these and other trends, as well as the stakes and what we're doing about them.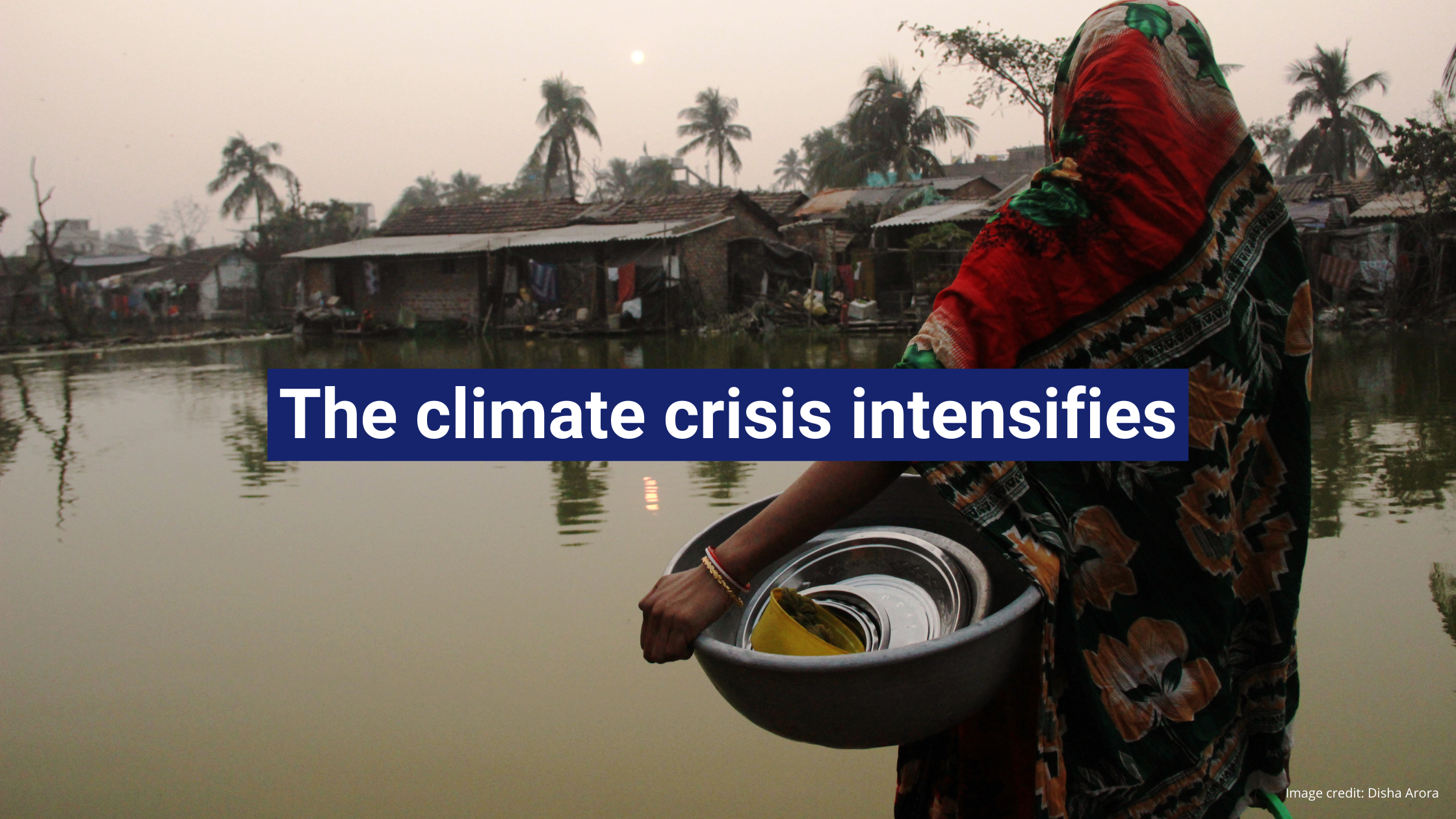 Cyclone Amphan, India
Disha Arora
The climate crisis intensifies, along with its impacts
What's at stake:
In the last few years, we have seen catastrophic climate-related disasters in nearly every region of the world. From prolonged drought in East African countries like Kenya and Somalia, to scorching temperatures and wildfires in southern Europe, to devastating tropical cyclones throughout Southeast Asia, the realities of climate change are more apparent than ever. The impacts of the climate crisis on sexual and reproductive health and rights are many. They include reduced or unavailable services in areas affected by disasters, harmful impacts on maternal health due to heat exposure, and increased incidence of sexual and gender‑based violence in situations of humanitarian crises or displacement. As the climate crisis is projected to intensify in 2023 and beyond, outcomes for sexual and reproductive health and rights are likely to worsen as well.
What we're doing about it:
IPPF has an established presence in many of the countries and regions most severely impacted by the climate crisis. We prioritize reaching the most marginalized and under‑served communities and we are committed to contributing to strengthening the evidence base on the links between sexual and reproductive health and rights and the climate crisis. We will continue to support individuals and communities to adapt to the impacts of the climate crisis through our service delivery, with a particular focus on women, girls and other marginalized groups.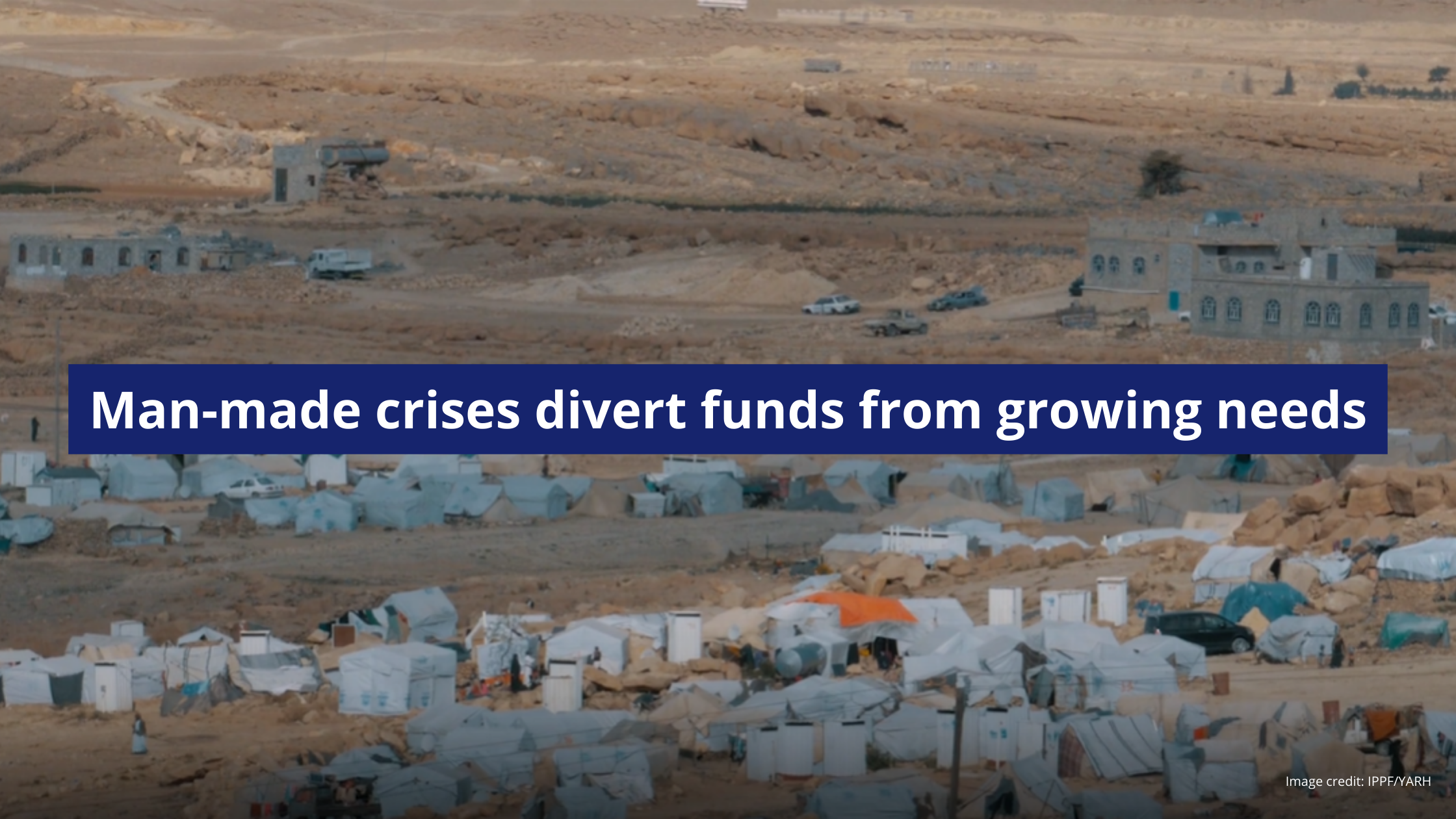 The forgotten conflict in Yemen
IPPF/YARH
Man-made crises divert funds from growing needs 
What's at stake:
The Russian invasion of Ukraine and other emergencies, from Ethiopia to Afghanistan, Yemen and beyond, has put the number of people forced to flee their homes due to natural and man-made disasters at 100 million. But crises such as the more than eight-year conflict in Yemen, have been put on the back burner of many governments and humanitarian agencies as much-needed funds have been diverted elsewhere. Women and girls bear the brunt of the consequences of forced displacement, particularly in conflict zones where they face soaring levels of sexual violence. 
What we're doing about it
In Yemen, our member association the Yemeni Association for Reproductive Health has provided SRH services to internally displaced people and host communities in key areas across the country. Ethiopian refugees fleeing the violence in Tigray have also found free sexual and reproductive healthcare through a clinic set up by the Sudan Family Planning Association. IPPF is also working with partners on the ground in Ukraine, Poland, Hungary, Romania, Moldova and Slovakia to link those fleeing the conflict with critical sexual and reproductive health services as well as provide them with essential items. In Afghanistan, a community midwifery program is offering door-to-door services and enabling assisted self-care amid critical healthcare shortages.
Funding for SGBV has dropped
Disha Arora
The rise in sexual and gender-based violence globally 
What's at stake:
From the early days of the COVID-19 pandemic, violence against women and other marginalised groups has risen. Intimate partner violence as well as rape and sexual assault, child marriage, and female genital mutilation increased exponentially in what has become known as the 'shadow pandemic' of sexual and gender-based violence (SGBV). Yet, three years after 146 governments and UN observers committed to addressing gender-based violence in national and global responses, the proportion of funding received for SGBV in the UN's appeals has dropped from 1% of the total in 2021 to 0.5% in 2022. Women in conflict zones and crisis settings in particular continue to face rising rates of SGBV and a decline in services for survivors. 
What we're doing about it:
We are committed to integrating SGBV care in every Member Association (MA) service delivery point. Survivors of violence can receive care after sexual assault, referrals to specialised services and counselling. To address the root causes of SGBV, many MAs offer a range of programmes including comprehensive sexuality education, engaging men and boys, and community‑based interventions around gender inequality, all of which are proven to prevent SGBV. As part of our humanitarian responses to crises in Ukraine, Tigray and elsewhere, our partners are on-the-ground providing services for survivors of SGBV including counselling, emergency contraception and STI treatment. 
SRHR is often cut amid austerity measures
Georgina Goodwin
Funding cuts to the SRHR sector
What's at stake:
Funding for SRHR is often the first to be cut when governments or humanitarian responses start tightening their budgets. The sector has also had its funding slashed in recent years, which could result in up to two million unintended pregnancies as a result of contraceptive supply shortages.  
Together with the effects of the Covid-19 pandemic, cuts to essential SRHR services threaten to undo years of progress towards gender equality and increasing access to reproductive choice. Unless measures are taken to restore lost funds and increase funding to the sector overall, millions of the world's most vulnerable people, especially women and girls, will be consigned to a bleak and uncertain future. 



What we're doing about it:
If countries are to build back better after the coronavirus pandemic, investing in sexual and reproductive healthcare is one of the best ways to break the cycle of poverty. Despite losing £14.2 million in funding from the UK government under its aid cuts, IPPF will continue to support sexual and reproductive health service and delivery by any means necessary. In 2023 and beyond, we will continue our work to demand that governments, donors and international organisations invest in SRHR services everywhere – in stable settings, in conflict-prone areas, for refugees, internally-displaced persons and in all communities.
The COVID-19 pandemic is not yet over
Huma Akram
Ongoing pandemic healthcare pose threats and opportunities
What's at stake:
The COVID-19 pandemic has led to a substantial reduction in preventive healthcare globally, reversing hard-won progress against various viruses and diseases, including sexually-transmitted infections like HIV and HPV. The impacts of these shifts are now beginning to show themselves, and they are hitting communities differently based on geography, gender, race and class. 
The pandemic also threatens to reverse decades of progress made towards gender equality, according to a global study that reveals women have been hit much harder socially and economically than men. If current trends continue, the world will not achieve gender equality by 2030 as laid out in the UN Sustainable Development Goals. 
But it's not all bad news: the pandemic has also enabled positive digital interventions for health and self-care, such as the mainstreaming of telemedicine for abortion and self-testing for cervical cancer. Further investments into digital health technologies can be a means of cutting costs, increasing affordability and broadening reach.



What we're doing about it:

 
In the first half of 2020, IPPF responded rapidly by convening a strong, multi-faceted global coordination mechanism – a COVID-19 Task Force – that gathered and disseminated intelligence about the pandemic; lead strategic, joined-up actions and learning; and scaled up innovations, all with the aim of supporting our Member Associations to deliver services in exceptionally difficult contexts. Working together, we have found solutions to provide ever more options and routes for rights-based support and care that will endure long past the pandemic. Laying a foundation for the future of care, we aim to advance digital and self-care by partnering with experts to invest more in digital health interventions and integrating them into our broader care package. 
The human right to healthcare is at stake
Vlad Tchompalov/Unsplash
Roe v. Wade reverberates globally
What's at stake:
The United States Supreme Court decision to dismantle Roe v Wade and roll back 50 years of access to safe abortion care in the US will cost lives for years to come. While some countries like France, Spain and Sierra Leone have moved to bolster abortion rights in response to the ruling, other countries like Poland have doubled down on a near-total abortion ban. Lack of access to safe abortion care is one of the leading causes of preventable maternal death and disability. Each year an estimated 47,000 women in the world die as a result of unsafe abortion and an estimated five million are hospitalised for the treatment of serious complications such as bleeding or infection. The concerted and calculated global efforts by anti-women, anti-gender, anti-LGBTQI+ conservative and religious, white supremacist extremists are putting the human right to healthcare, equality, bodily autonomy and ultimately, freedom, at stake. 



What we're doing about it:
We've been vocal in both our condemnation of abortion restrictions and our celebration of abortion rights worldwide. For over 15 years, we have expanded access to safe abortion care through programmes such as the Global Comprehensive Abortion Care Initiative. We have created a range of resources for all women, girls and pregnant people seeking more information on abortion care. In 2022, we certified nearly 10,000 healthcare workers through our newly created free online medical abortion training. Our Medical Abortion Commodities Database continues to provide information on quality medical abortion drugs available by country. With long-held rights under sustained attack, our message remains clear: Abortion is healthcare. Period.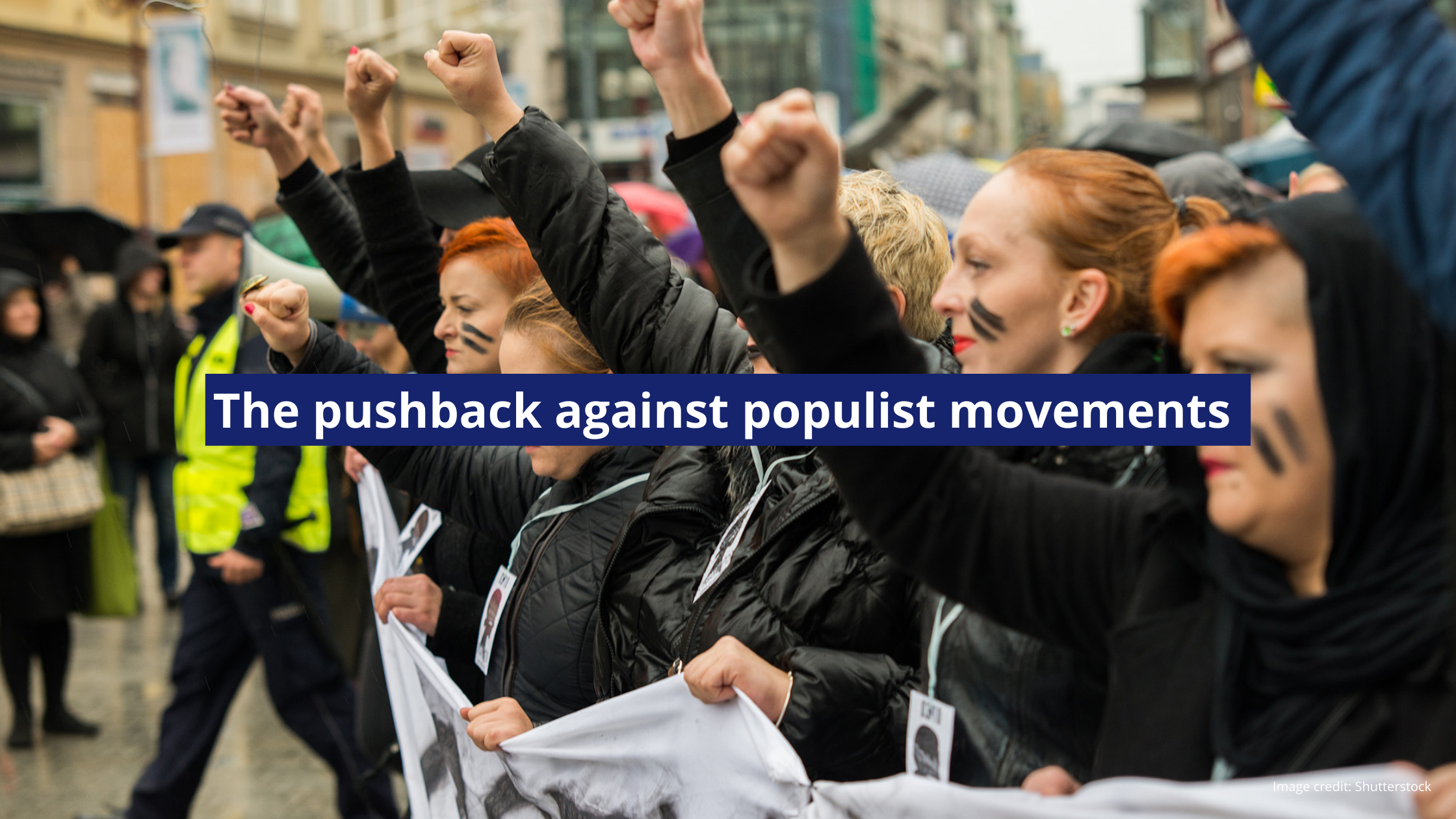 Anti-choice movements push for women's subordination
Shutterstock
The pushback against populist movements 
What's at stake:
The trend of growing and more organised resistance to SRHR is likely to continue in 2023. Nationalistic, religious and populist movements are pursuing old-fashioned patriarchal norms, and anti-choice movements are pushing for women's subordination, particularly in Eastern bloc countries like Poland, Hungary and Romania. At stake are not just the lives and livelihoods of the brave human rights defenders, but also the women and their families whose rights are being trampled in the name of conservatism and religious values.  



What we're doing about it:
As part of our Defend the Defenders campaign in Poland, IPPF is joining human rights defenders who are committed to speak out despite the constant persecution by the state, police, prosecutors and far-right actors. We support legal assistance in court cases and psychological assistance for human rights defenders, and we are also advocating to hold governments to account and demand the enforcement and creation of policies that protect human rights defenders.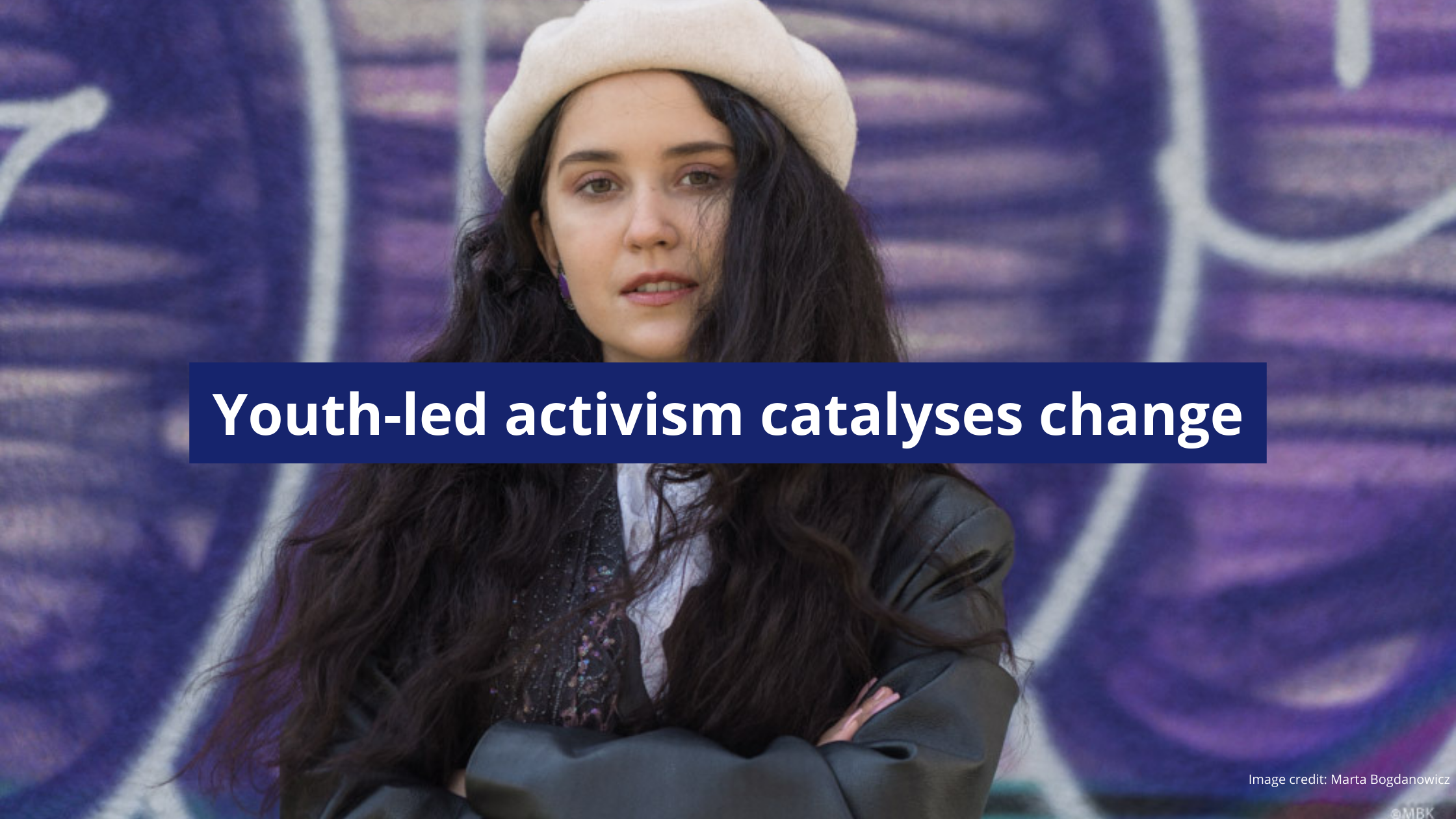 Charismatic and energetic leaders demand action
Marta Bogdanowicz
A surge in youth-led activism could be the catalyst for change
What's at stake:
Youth-led activism has surged around the world, as charismatic and energetic leaders demand concrete action on everything from climate justice to reproductive rights. With the right leadership and resources (particularly digital), youth are key drivers of change. Ignoring or disregarding their voices could prevent much-needed reform of the old ways of doing.  



What we're doing about it:
As the most diverse generation the world has ever known, youth movements are intersectional and, in today's digital age, observe few borders. Young people played a crucial role in creating IPPF's new strategy and we will continue to work with youth in the design and delivery of care. We're going further on comprehensive sexuality education and exploring new digital avenues to reach the hundreds of millions of young people that get their information about sex and sexuality online.
The right against regressive politics
IPPF EN
Grassroots movements will continue to lead change on the ground
What's at stake:
All over the world, grassroots movements are fighting back against regressive political agendas. In a digital age, they are often organic and without hierarchy or formal structures. They use social media or other digital means to connect, organise and expand their influence and impacts. The Green Wave - a feminist movement demanding abortion rights across Latin America - is a powerful example of the power of grassroots movements leading to positive change. But despite showing great promise, these movements are also at risk of opposition attacks, and their leaders particularly at risk of persecution. 
 
What we're doing about it:
These movements give us hope and motivation to continue to fight for sexual and reproductive health and rights for all. IPPF will forge greater alliances and partnerships with grassroots movements around the world, and we will support these movements where they are, and on their terms. Through our digital channels, we will showcase the best of civil society action with the aim of inspiring others to create new ideas and innovation. 
Banner image credit: Hannah Maule-ffinch