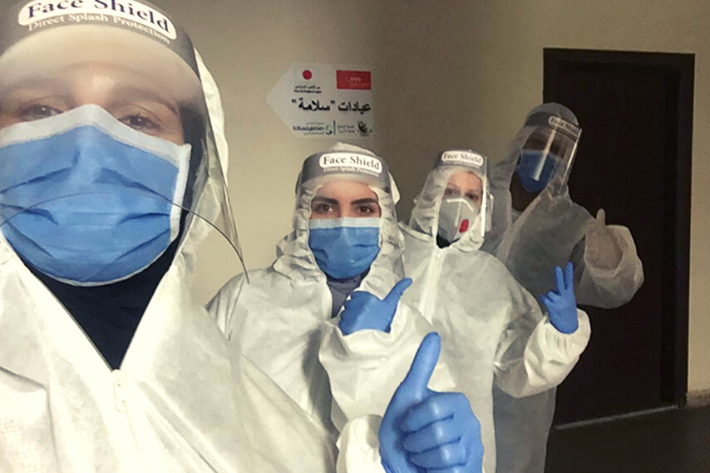 This has been a year like no other. Yet the fight for sexual and reproductive health and rights by our awe-inspiring teams and partners around the world has continued in the face of uncharted challenges. Here, we share 20 moments from 2020 that have shaped the year for IPPF.
1. IPPF's COVID-19 response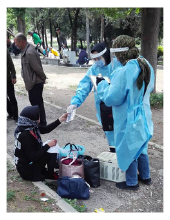 COVID-19 has upended life as we all knew it. The impact on public health has been cataclysmic, and we have the utmost gratitude and admiration for our Member Associations who stopped at nothing to carry on delivering vital sexual and reproductive healthcare during this unprecedented year.
We are in awe of every worker and every volunteer who was able to continue doing their very best to provide vital sexual and reproductive healthcare, even at risk to themselves. They are truly heroes, and we are forever grateful for their dedication and commitment. Learn about just some of them. 
2. Three years of GGR… And a glimmer of hope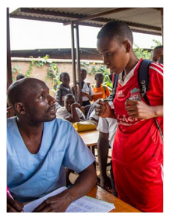 The harmful Global Gag Rule (aka the Mexico City Policy) passed a grim milestone at the start of the year, as we marked three years since its reinstatement. The US policy – which denies vital funding to healthcare organizations who refuse to sign it – has led to hundreds of millions of dollars lost to date, with devastating consequences globally. It has resulted in cuts to services such as HIV and cancer treatment, maternal heath, and safe abortion care.
However, there is hope on the horizon with the incoming US administration; President-elect Biden has pledged to sign an executive order on his first day in office to repeal the Global Gag Rule. We look forward to this becoming a reality. Find out more about the impact GGR has had.     
3. Expanding healthcare for factory workers in Ghana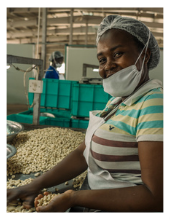 Bringing healthcare to underserved and hard-to-reach communities has been a priority for IPPF for many years. One such example of this is in Ghana, where the Planned Parenthood Association Ghana (PPAG), along with the Danish Family Planning Association (DFPA), have been rolling out a project at a cashew nut factory in the Mim township to help make it as easy as possible for women take control of their reproductive health. We reported earlier in the year about the ways in which people benefit from these vital services.  
4. How to use a condom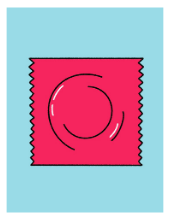 Condoms are one of the most common forms of contraception – and with their ability to help prevent both STI/HIV transmission and unintended pregnancies, they're pretty remarkable! But they're sometimes used incorrectly, so this year – in time for Valentine's Day – we published some step-by-step information on how to use and dispose of an external condom correctly.
Read our detailed blog, or watch the video on how to put a condom on, and how to take it off. You might be surprised to learn something new!
5. A new report for ICPD+25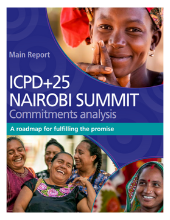 2020 marked a year on from the Nairobi Summit on ICPD+25. Last year's summit brought together governments, civil society, academia, the private sector, faith-based organizations, international financial institutions, grassroots organizations and other partners interested in the pursuit of sexual and reproductive health and rights.
In order to contribute to the implementation and accountability of this at the national level, this year we published ICPD+25 Nairobi Summit Report: A Roadmap for Fulfilling the Promise in multiple languages – download the complete report or a summary to learn more.  
6. The Year of the Nurse and Midwife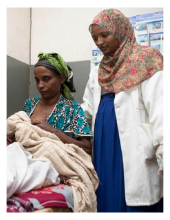 Because of the critical role they play in providing health services, the World Health Organization designated 2020 the International Year of the Nurse and Midwife. The additional challenges the world has witnessed this year due to COVID-19 has only magnified the important role these health professionals play in all our communities.
Professionals like Rewda Kedir, who works as a midwife in a rural area of the Oromia region in southwest Ethiopia, who we caught up with earlier this year. Only 14% of married women are using any method of contraception in the area Rewda works in, despite many wanting to. Having open – if challenging – conversations with families is one way her clinic lets people know what their contraceptive options are. Find out more about Rewda.   
7. The Pill at 60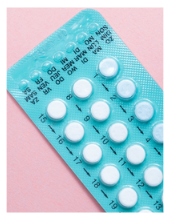 2020 marks the 60th anniversary of the game-changing contraceptive pill. For 60 years, "the Pill" has been approved for use in the US market, changing the face of reproductive control for millions of people since.
Although taking a few years longer to become widely available to all women, the Pill was the first oral hormonal contraceptive – and the massive impact of this tiny pill cannot be understated. It allowed women to take real ownership over if and when they had children, and how many they had, giving them control over their lives in a way that had never been seen before. Learn more about the Pill.  
8. Healthcare during a climate crisis, Kiribati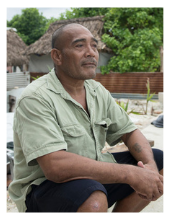 Kiribati is one of the least developed countries in the Pacific with few natural resources, limited governance, institutional capacity, and infrastructure. Humanitarian crises are prevalent here, and the occurrence of extreme weather events is likely to increase due to the climate crisis as the sea levels rise and regularly flood coastal homes.
Earlier this year, we spoke to youth volunteers, sex workers, community organizers and more about the impact of these crises on access to sexual and reproductive healthcare – read their fascinating stories. 
9. Supporting sex workers in Ethiopia
A few months ago, we reported from a small clinic in a quiet, residential neighborhood of Ethiopia's Oromia region. We followed peer educators, who also happened to be former or current sex workers, as they hit the streets for a day with their handbags filled with condoms to hand out to other sex workers.
Their aim was to teach them how to protect themselves from sexually-transmitted infections (STIs) and unintended pregnancies, and to persuade as many as they could to access the full range of healthcare services at the confidential clinic. 
10. How to masturbate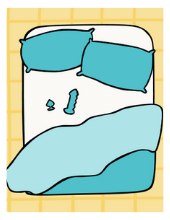 We wrote some guides on how to masturbate, whether you have a penis or a vagina. Why? Because it's completely normal, and it has been proven that masturbation is good for your health. It can reduce stress, can help you sleep better, and make you feel more confident with understanding what you do and don't like sexually. And, as you are your 'safest' sexual partner, there is zero chance of unintended pregnancy and HIV/STI transmission, compared to having sex with a partner or partners. In the current COVID-19 situation, this is something important to bear in mind. 
11. Distributing contraception in DRC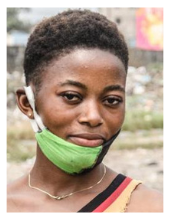 We caught up with some IPPF clients in Democratic Republic of the Congo, including Ruth who says that receiving contraception for free means she doesn't have to choose between buying milk for her baby, or condoms for herself. Claudine, a 27-year-old sex worker, has also been able to access free contraceptives, after initially being wary of trying them as she didn't know much about contraception. This was made possible for Ruth, Claudine, and many others through the Women's Integrated Sexual Health programme in the DRC.
12. Tackling the taboo around period sex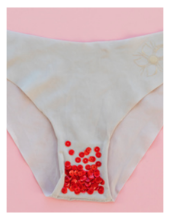 This year, we thought it was long overdue that we answered some questions you might have about period sex. Considering roughly half of the world's population will spend many years of their lives menstruating, it's surprising that periods are still seen as a taboo subject – especially when it comes to period sex. But the truth is, it's very normal and can actually be a great experience! Read our blog to learn more – including about whether it's safe, if it's messy, and if it will affect your period.  
13. Abortion protests in Poland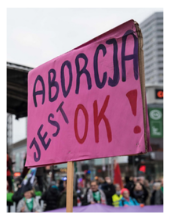 In October, a troubling court ruling in Poland imposed a near ban on abortion. The result has been agonizing for women, forcing some to continue through pregnancies against their will, while others will have no choice but to travel abroad to seek care, or to turn to potentially dangerous underground abortions.
This cruel, regressive move has been made possible by Poland's ruling PiS party's deliberate erosion of the rule of law and democratic values in the country, and is just the first concrete manifestation of how the current situation in Poland enables PiS to violate human rights. Peaceful protests have erupted on the streets of Poland against the ruling, with many turning violent at the hands of nationalist groups, as well as law enforcement and the military being deployed.
IPPF urges the European Union to take firm action against the deterioration of the rule and law and fundamental rights in Poland. Follow IPPF European Network on Twitter for the latest updates. 
14. Period products – what are the options?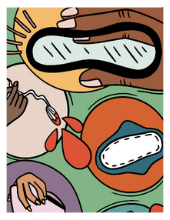 A person who menstruates will experience roughly 450 periods in a lifetime – so it's always a good idea to be thinking about the products used to manage periods. This is especially true nowadays given that the landscape of period products has changed dramatically in recent years, and concerns around sustainability are ever-increasing.
With that in mind, we wrote a piece on main options available – allow us to share them with you.  
15. Sex Q&A with Joy and Jake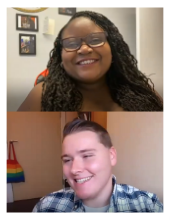 "Sex at home or somewhere more adventurous"... "Leave a bad date early, or stay till the end?"... "Would you put 'blind' on your dating profile or not?" These were just some of the questions Joy and Jake – who are sight/visually-impaired – posed to each other as they discussed the highs, lows and everything in between of navigating sex, dating and relationships, while living with a disability.
Watch the informative yet hilarious video in full, which we released for December's International Day of Persons with Disabilities.  
16. Understanding abortion: a visual resource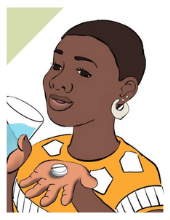 We were thrilled to release a new resource which offers an insight into what the process of having an abortion is like, showing what a young person's journey would be if they decided to have an abortion. It is aimed to support community health workers, young people, and others people advocating for an increase in knowledge and information on abortion and reducing the stigma surrounding it.
Take a look now, and for further information on this resource, such as translation into other languages, contact [email protected].  
17. Pakistan's one-stop clinic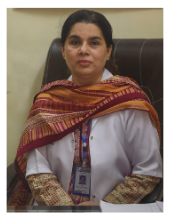 We were grateful to speak with Dr Zarka Riaz, a gynaecologist at the Family Health Model Clinic in Rawalpindi, Pakistan, about one of the biggest issues facing women in her community: access to contraception. She described how things are changing for the better in the low-income area thanks to Women's Integrated Sexual Health (WISH2ACTION) programme.
The programme's pioneering model brings together public and private specialist sexual and reproductive and health centers within a close radius referral network to ensure women and girls can receive life-changing care.  
18. 16 Days of Activism Against Gender-Based Violence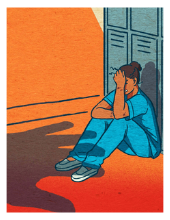 16 Days of Activism Against Gender-Based Violence is a global campaign which runs annually from 25 November (International Day Against Violence Against Women), to December 10 (International Human Rights Day). This campaign matters because one woman in three around the world has experienced physical or sexual violence, and one in two women killed worldwide were killed by their partners or families.
This year, we put the spotlight on the links between gender-based violence and the world of work. This could mean the violence and harassment women face while working, or on their way to/from work, or the harm they face at home which has an impact on their working lives. Learn more about the campaign in time for next year.  
19. Tropical Cyclone Harold response
Tropical Cyclone Harold caused widespread destruction in the Solomon Islands, Vanuatu, Fiji, and Tonga during April. The Vanuatu Family Health Association (VFHA) were able to offer support during the challenging relief mission, offering women sexual and reproductive healthcare. We spoke with one nurse, Leias Obed, who described how these services must sometimes be offered discreetly due to fear of stigmatization, or even coercion and violence. Learn more about her role under these difficult circumstances.  
20. Healthy, Happy and Hot: A guide to your rights, sexuality & living with HIV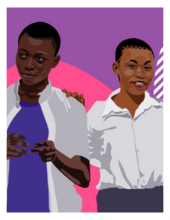 Young people living with HIV may feel that sex is just
not an option, but don't worry – many young people
living with HIV live healthy, fun, happy and sexually
fulfilling lives. You can too, if you want to! Things get
easier (and sex can get even better!) as you become
more comfortable with your status.
Everyone is entitled to their sexual and reproductive rights, so we released a guide for young people living with HIV. This guide aims to provide people with practical information, so that they can make informed decisions about who, where, when, and how they have sex. Check it out!